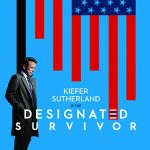 Designated Survivor
Format: TV show on DVD
Who it's for: Adults
Are you looking for something good to watch? Look no further. Who knew that in the United States we actually have a Designated Survivor? This occurs when the President, the Vice President and other officials in the line of succession for President are in the same location. In the event of a catastrophic event this will guarantee continuity of government all the higher officials are killed. The Designated Survivor is named President.
That is where this show begins…. You will quickly become engrossed in this political drama. Keifer Sutherland stars as the Designated Survivor. He is a very low level cabinet member named Tom Kirkman. After a major attack on the Capitol Tom is named President. There is a powerful resistance to a very inexperienced nobody in the role as President among those still alive. Tom Kirkman is determined to lead the county in his own mild way. If you watch the first episode be prepared to binge watch the rest of the episodes. Designated Survivor is powerful, thrilling, engaging, fast-paced and just overall a great story line!