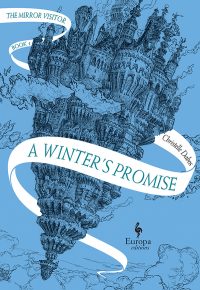 Series Title: The Mirror Visitor by Christelle Dabos
First Book: A Winter's Promise
Who it's for: Teens, Adults
Meet Ophelia. She's petite with voluminous, brown curly hair and a mouse of a voice. When she fumbles and drops her rectangular glasses, which she is apt to do, the world becomes one big blur.  She wears gloves. If not, she would be able to read the history of every item and person that she touches. She can also pass through mirrors from one room to another. She wears a tri-colored scarf that is more a pet than an accessory. It wraps itself around her leg or her neck and flaps like a cat's tail. She's from the land of Anima.
Ophelia is engaged to Thorn who is exceedingly tall, skinny, and blonde with two facial scars and a severe mien. Thorn is from the land of Pole. Like Ophelia, he's not thrilled about their arranged marriage, but what else can they do? Ophelia would be banished if she rejects this marriage contract. And Thorn would never overcome the infamy of his illegitimate birth. When Thorn and Ophelia marry, they will each gain some of each other's abilities. From the Dragon clan, Thorn is able to claw and squeeze the air out of people telepathically. He is a Chronicler too, able to remember everything from birth. He needs Ophelia's ability to read objects to interpret the ancient book of Farouk, the spirit god of Pole. Unfortunately, Pole is rife with cut-throat clans such as the Mirages, Nihilists, and the Web who will stop at nothing to court the favor of Farouk. Thorn wants to protect Ophelia. And Ophelia wants to help Thorn. What will happen next??
If  you are drawn to fantasy tales with unique characters and a fast-paced plot, then the Mirror Visitor series is for you!