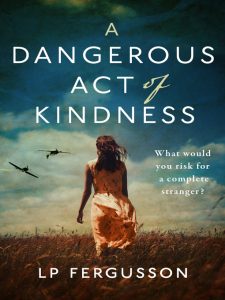 A Dangerous Act of Kindness by LP Fergusson
Recommended for: Adults
Format: eBook
The dog bounded across the snowy field during a cold night in Britain.  Trailing behind on horseback, Millie called, "Gyp!  Come back!"   Gyp sniffed the ground and wound his way over to the barn.  Millie entered the shadowy structure.  She stopped short.  A man slumped against a bale, his arm at an odd angle.  With his other hand, he was pointing a gun directly at her.  Was this a German soldier?  Had he escaped the recent plane crash?  Locals had assumed he had died in the fire.  "Let me help you," implored Millie.  "Help me?" responded her enemy.
Millie's husband was dead.  She'd found him hanging at the end of a rope six months ago.  She wished she'd helped him before it was too late.
A snow storm was coming.  Could she aid this man without the knowledge of her neighbor, Hugh and her Land Girl, Brigsie?  Snow or not, the cows would need milking in the morning.  Brigsie would be by early to help.  And Hugh often came by too.  He would gladly become more than Millie's friend if she gave him any encouragement.  Was she over her grief?
A Dangerous Act of Kindness is narrated by Millie, Hugh, and Lukas, the injured German.    The story reveals various perspectives of war, of love, and of forgiveness.  I was moved by the universal themes that cross culture and time.