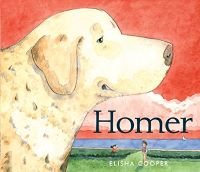 Homer  by Elisha Cooper
Format: Book
Who's it for: Kids (and adults)
If only you had more money, then you would be happy.
If only you had more friends, then you would be happy.
If only you read more books, watched the hottest new tv show, then you would be happy.
If only you had more vacations, went on more adventures, then you would really be happy.
If only you found a way to lose those pesky extra 15 pounds you've been carrying for years, then you would truly be happy.
One of these thoughts has probably crossed your mind at some point.  It's certainly what we're being told on a day-to-day basis.  Movies, television, and even our books (Have you seen books like this before? 1,000 books to read before you die: a life-changing list), are constantly telling us that we need to do all the things to be truly happy.  There will always be something more to do.  Another book that you absolutely MUST read.  Another Netflix show that everyone is talking about.  Another thing that you've always wanted to do.  They are all waiting for us as soon as we've finished with the last thing.
Now, please consider this: if we're feeling it, then the children in our lives are feeling it as well.
Homer, written and illustrated by Elisha Cooper, is a friendly reminder that we absolutely do not need to do all the things to be happy.  In fact, there is nothing that we have to do at all.  We simply have to Be.  Here.  Now.  Present.
Homer is essentially a story of a dog who is perfectly happy to watch his friends have fun and feels no need to participate himself, but at its core it is a story about the nature of contentment.  Contentment, as in to feel content in the present moment. To be happy with what you have at this exact moment.
There are not many children's books that express this idea so clearly.  Taking less than five minutes to read, it is well worth the small amount of time it would take to complete it.  Homer teaches a very important lesson that is sorely needed in a society that seems to glorify the doing of all the things.