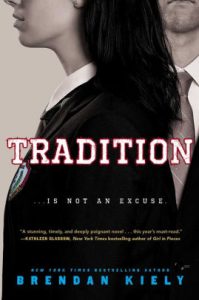 Tradition by Brendan Kiely
Format: Book & Audiobook
Who it's for: Teens & Adults
Jules Devereux is starting her senior year at Fullbrook Academy, an elite boarding school in New England, and is already counting the days to graduation so she can leave behind her ex-boyfriend, her ex-best friends, and everything she thinks is wrong with Fullbrook.
Always an outspoken advocate, Jules finds herself strangely silenced when she becomes the victim of sexual assault at the annual fall drinking party. Finding an administration unwilling to act, she and her new found friends launch a plan to get everyone's attention and challenge what is accepted just because it's always been that way.
I heard the author, Brendan Kiely, speak at a conference and his genuine concern for responsible and respectful behavior made me want to read this book.  It's thought provoking and made me see how we often let things stay the same for no better reason than that's how it's always been. Brendan Kiely also co-authored the 2016 One Maryland One Book: All American Boys.
Find it in the catalog