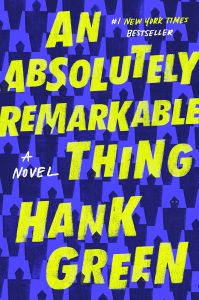 An Absolutely Remarkable Thing by Hank Green
Format: Book
Who it's for: Adults
23-year-old designer April May lives and works in New York City. Leaving work in the middle of the night, she discovers a 10-foot-tall, Transformers-like statue on the sidewalk outside a Chipotle. She calls her friend and they make a video of April interviewing the statue she names Carl. By the next morning, she's gone viral and Carls have appeared in more than 60 other cities around the world. What follows is a treatise on the nature of celebrity in the age of social media, and a discussion of humanity in a society rife with polarizing rhetoric. April establishes herself as a brand and struggles to maintain her own humanity, while the world tries to figure out what The Carls are, why they're here, and what they mean for humanity.
There is a science fiction element to this story. The Carls are not your average street art. You'll want to know how they got here and what their purpose is, but the bigger questions are about today's society and culture and how fame, the internet, and the 24-hour news cycle impact all of us and our relationships with one another. Ending in a cliffhanger, An Absolutely Remarkable Thing leaves room for a sequel, which Green is reportedly working on.