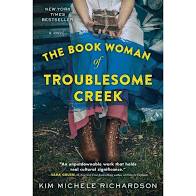 The Book Woman of Troublesome Creek by Kim Michele Richardson
Format: Book
Who it's for:  Adults
Based on the true story of the Pack Horse Library Project of Kentucky, this story is a love letter to Appalachia (Appa-latch-uh, not Appa-lay-cha) heritage, librarians and the blue skinned people.  Cussy Carter, otherwise known as Bluet, is one of the last remaining blue people of Kentucky and she doesn't want to marry.  She wants to be a pack horse librarian delivering books to the mountain people in her town of Troublesome Creek.  Her father wants to make sure she is taken care of so he marries her off anyway.  The marriage does not go well and soon Cussy is living her dream delivering books and meeting all the people in her mountain community.
However, Cussy must deal with racism, poverty and the unforgiving hardship of living in 1930s Appalachia.  Cussy has blue skin and like others that are not white, she runs into the cruelty of racism.  She wants to be white and in exchange for food and protection decides to undergo experiments and experimental treatment for her blue skin which is in fact a genetic disorder called, Methemoglobinemia.
Cussy is one of the strongest, kindest characters I've read about recently.  She is beautiful inside and out and you want to wrap her up in a warm hug.  I really enjoyed this story of strength, compassion and, of course, librarians on horses!  I was also lucky to hear the author interviewed and found the history of the Pack Horse Library Project fascinating.  Check out her website for more information – https://www.kimmichelerichardson.com/the-book-woman-of-troublesome-creek