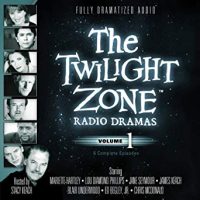 Twilight Zone Radio Dramas
Hoopla Audion
For Teens and Adults
Over the past month or so, I've been hooked on The Twilight Zone "Radio Dramas" a radio series featuring adaptations of actual episodes of the classic TV series The Twilight Zone.  The stories are often expanded and updated to reflect twenty-first century technology and society, but the scripts remain fairly close to the original television broadcast. All 29 volumes are available for instant download with Hoopla Digital.  These are indeed top-notch productions featuring voice performances from some notable celebrities. Its like listening to some old-time radio theater complete with the thrill and all the spooky feels.  If you're into audio dramas, these might be worth a listen.
Find yourself in The Twilight Zone on Hoopla Digital.