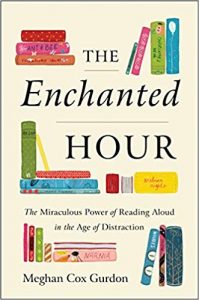 The Enchanted Hour: The Miraculous Power of Reading Aloud in the Age of Distraction by Meghan Cox Gurdon
Format: Book
Who it's for: Adults
The Enchanted Hour celebrates the simple yet profound practice of reading books out loud to others: to children, of course, but to adults as well, especially those who are ill or elderly. "Story time" soothes premature babies and accelerates children's language acquisition. It can strengthen family bonds at all ages and alleviate loneliness for adults. This book takes you on a tour through all these benefits and more.
In the author's own description, her book's main ingredients are "memoir and advocacy [mixed] with science, history, art, and literature". This medley of approaches turns out to be a recipe for a delightful hybrid of persuasive essay and how-to manual, leavened with anecdotes both poignant and comical. Some of Gurdon's own passages were so eloquently composed that I felt compelled to read them aloud to others!
The title of the last chapter captures the book's central message: "There is No Present Like the Time". Taking the time to read aloud to someone—a child, a sibling, a parent—may be one of the most rewarding gifts you ever give to them, and to yourself.