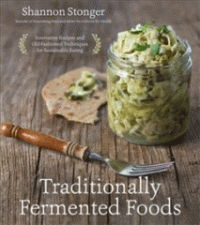 Traditionally Fermented Foods by Shannon Stonger
Format: Book
Who it's for: Adults
Kvass, kombucha, yogurt, sourdough, kefir . . . Fermented foods have been on my radar for a while but this book, with its inviting cover featuring Taco Kraut, has persuaded me to jump on the fermentation bandwagon. Stonger describes the fermentation process and includes best practices, with troubleshooting tips for beginners, before launching into a wealth of tasty recipes in 5 categories: Vegetables, Grains, Dairy, Beverages and Condiments.
My first ferment from the book is Summer Squash Cortido, simply made from zucchini, yellow squash, carrot, garlic, salt, oregano and red pepper flakes. The veggies are grated to create a colorful relish which I'm patiently waiting to sample in about a week. Maybe I'll serve it with the Sourdough Biscuits Sans Baking Powder or Soda, found on page 92. And I could wash them down with a Carrot-Clementine Kvass, from page 191.
Whether you're an experienced fermenter or a newbie (like me) I would venture to say this book provides inspiration for us all. Shannon Stonger has won me over to another way of preserving! Find it in the catalog.