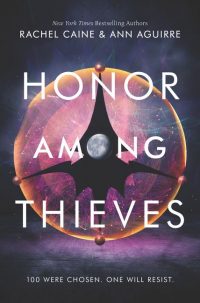 Honor Among Thieves by Rachel Caine and Anne Aguirre
Format: Book
Who it's for: Teens
Zara Cole has endured a painful past and finds herself in rehab because of her antisocial behavior. Her past is the reason she chooses to live her life in the dangerous Zone and not moving to Mars with her family, balking at the thought of living the rest of her life inside of a dome.
Then she commits a crime that has her running in terror. Instead of receiving the punishment she's certain she'll get, she is instead recruited into a space exploration team, the Honors. Treated like super stars, Honors are an elite team chosen by sentient alien ships. With Nadim, Zara's ship, and Beatrix, her fellow Honor, Zara begins to open up and discover who she is for the first time. Her bond with Nadim grows deeper than any she's ever had but it becomes apparent there are many things he's hiding about the mission, himself and his people.
Zara has spent most of her life protecting and fighting for herself. Now she is faced with doing the same for others she's only just met.
Honor Among Thieves is a fun read with a main cast of likeable characters you'll find yourself rooting for.
Find it in the catalog.