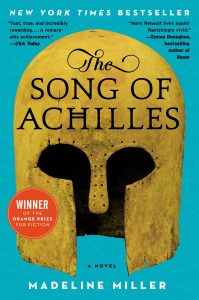 The Song of Achilles by Madeline Miller
Format: eBook, Book, Audiobook
Who it's for: Adults, Teens
The Song of Achilles is a retelling of the story of Achilles from the point of view of Patroclus, his best friend and eventual lover. Miller takes the stories we know from The Iliad and fills in the blanks, starting with Achilles' childhood and the beginnings of his relationship with Patroclus. Achilles is a complicated figure. More than the arrogant, brash man who fought in the Trojan War, he is depicted as often unsure of himself, kind, and capable of love. 
We follow Achilles and Patroclus from childhood to their adolescence, during which they travel to train under the centaur, Chiron, to young adulthood. Through it all, Achilles' mother, Thetis, appears often to express her displeasure with her son's relationship with Patroclus. We see Achilles and Patrolcus grow closer over the years, ultimately falling in love before the story turns to the more familiar Trojan War years. Although you may know what happens next, Miller's writing makes the entire series of events gut-wrenching.
The Song of Achilles is for anyone with even a passing interest in Greek mythology, or anyone who likes a well-written romance with a dash of war and vengeful gods. Also recommended is Miller's second novel, Circe, a retelling of the life of Circe, a daughter of Helios.