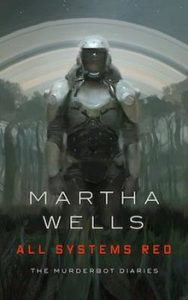 All Systems Red by Martha Wells
Format: Book, eBook, digital audiobook
Who it's for: Adults
Working for a money-hungry interplanetary research company is hard. It's even harder if you're a self-aware SecUnit (security unit) AI tasked with keeping humans safe. Humans determined to complete useful research can be extremely annoying by not worrying about their safety on hazardous planets. Murderbot, as the SecUnit secretly refers to itself, just wants its assigned humans to be safe so it can spend its off-hours watching television in peace. When the humans decide to challenge their less than honorable employees, Murderbot wants to just ignore their well-intentioned bravery and go back to its shows. But somehow these aggravating humans have gotten under Murderbot's armor and it just can't seem to let them down.
All Systems Red is a great example of a novella done well. Somehow in only a few short chapters, author Martha Wells makes you care about this grumpy AI who would really prefer that you didn't waste your time doing so. With dark humor and sarcastic wit, you will be looking up book two of the Murderbot Diaries (Artificial Condition) as soon as you finish reading All Systems Red.
Find All Systems Red in the Catalog