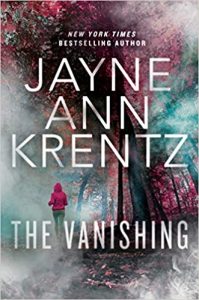 The Vanishing by Jayne Ann Krentz
Format: Book
Who it's for: Adults
This first book in a new series doesn't disappoint! It has all the great elements of a fun and fast paced read. There is mystery, suspense, paranormal elements, action, and a hot romance.
As teenagers, Catalina Lark and Olivia LeClair witnessed a murder and had a bazaar supernatural experience in a cave in their hometown of Fogg Lake. According to everyone in town, there was no body; so there was no murder. Fast forward 15 years, and Catalina and Olivia are running their own investigation agency. For two women who can read auras and sense events past and present, let's just say the investigation business is going well.
Their lives are quickly upended when Olivia goes missing; and an interesting man named Slater shows up from The Foundation, a secretive supernatural organization. Catalina and Slater set out to find Olivia, and who is responsible for the murders of 2 collectors of supernatural artifacts. These events are linked, and may lead Catalina and Slater to the Fogg Lake murderer from 15 years ago.
Find it in the catalog.