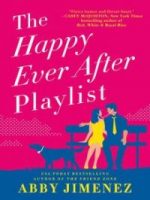 The Happy Every After Playlist by Abby Jimenez
Who it's for: Adults
Format: eBook
After two years of grieving for her fiancé, Sloan finds a lost dog that steals her heart.  Sloan tries to contact Tucker's owner with no luck, so she is hopeful that she will get to keep him.  Unfortunately, just when she thinks Tucker is hers to keep, his owner, Jason, contacts her and he definitely wants his dog back.  Jason is on a music tour in Australia and so the two decide that Sloan will keep Tucker until his return.  A long distance romance starts to develop between them.
When Jason returns, they quickly develop a relationship.  However, is Sloan ready to give her heart to another after losing her fiancé?  With Jason's music career taking off, will they be able to stick together while he is on tour?
This was a fun, flirty romance with lots of heart.  A great escape during quarantine.  This is a standalone romance, but you may want to read about Sloan's friend, Kristen, first in, The Friend Zone. 
Find the eBook of The Happy Ever After Playlist on Overdrive/Libby and The Friend Zone on Overdrive/Libby.