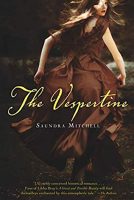 The Vespertine by Saundra Mitchell
Format: Book
Who's It For: Teens and Adults
Amelia van den Broek stood out like a sore thumb compared to her beautiful and polished cousin Zora. Broken Tooth, Maine was worlds different from Baltimore, Maryland in 1889. Yet at a gathering, Amelia felt an instant connection to her dinner partner, Nathaniel Witherspoon. An impoverished artist, Nathaniel was paid to even out their party. Was he drawn to Amelia too or was this just how he was earning his wage? Although Nathaniel was below her social circle, Amelia admired his dark looks and witty repartee. "May I call on you?" he queried, "Or will you call on me?" Amelia reluctantly declined, yet opened the door after he departed. How did he disappear so quickly?  Amelia continued to run into Nathaniel  with her cousin and her circle of friends: at the park, near the theater. Was this just a coincidence?
One day, Amelia saw a golden vision at sunset. Her cousin was dancing in a particular dress with her beau at a ball. To her cousin's delight, this did happen.  Zora's friends wanted their futures foretold too. Eventually Amelia's predictions had tragic results. Was the "Mystic from Maine" the cause of these events or just the messenger? And since Amelia didn't have visions of Nathaniel or her own future, would he be in it?
This book grew on me. I enjoyed the historical setting. The fantasy aspects gave the story a provocative twist. The characters were creatively and clearly delineated. The domino effect of events built suspense. And "vesper" means both prayer and evening, such as Amelia's sunset visions.  I found myself re-reading the book and liking it more each time. Romance and fantasy fans, unite!