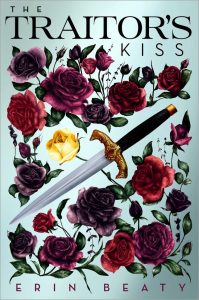 Book: The Traitor's Kiss
Author: Erin Beaty
Who's It For: Teens and Adults
Sage Fowler knew she wasn't marriage material. She was independent and outspoken. And as Madame Rodelle, the Matchmaker, confirmed, her looks, though pleasing, would not dazzle men. Sage didn't want to disappoint her guardian, Uncle William Broadmoor. Yet, Sage would not be chosen as a Concordian bride. Ironically, Madame Rodelle wanted Sage as her apprentice. "Matchmaking is primarily a task of reading people, collecting information, and piecing it together." Sage was to ferret out information from the soldiers who escorted the brides to be. Which men would best suit which Concordian brides?
Meanwhile, Captain Alexander Quinn was on a mission too. He and his men needed to safely escort the brides to Cambria, traversing the land that seemed to be infiltrated by the enemy Kimisara. Moreover, he needed to protect the prince, his cousin, Rob. And who was Lady Sage Broadmoor, the inquisitive one who seemed adept at collecting information from his soldiers? Could she help him in his cause? When Sage befriended soldier Ash Carter, promising to teach him to read, Quinn wondered, who is spying on whom?
This book kept me entranced with its blend of history, romantic suspense, and a surprise identity.