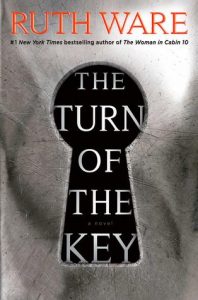 The Turn of the Key by Ruth Ware
Format: Book
Who it's for: Adults
An isolated mansion in the hills of Scotland. An app that controls every lock and camera. A mysterious noise in the attic. And a nanny sitting in prison, explaining how she did not kill a little girl.
The Turn of the Key is the perfect mix of a Gothic ghost story, as it is based on Henry James's The Turn of the Screw, and a cautionary tale of what happens when we let technology invade every aspect of our lives.
Rowan is a young woman moving to the Scottish Highlands to work as a nanny for three little girls. The pay is high, and the house is an amazing hybrid of Victorian architecture and modern style. The mansion is equipped with state-of-the-art technology that allows everything to be controlled through an app.
As Rowan tries to settle into her new role, she is disturbed by footsteps in the attic and whispers about ghosts scaring away the girls' previous nannies.
Told through Rowan's perspective as she recounts what happened after she arrived at the house, the novel's twists and turns kept me guessing until the very last page.
I devoured this book in one day, because I just had to know what happened to land our protagonist in prison. This is easily my favorite Ruth Ware novel, and I would highly recommend it to anyone who enjoys a good mystery.