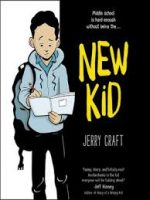 New Kid by Jerry Craft
Format: Graphic Novel
Who it's for:  Kids, Teens, Adults
Jordan Banks is starting his 7th grade year in a new school.  A new PRIVATE school with lots of privilege and not a lot of diversity.  He really wishes to go to art school, but his parents think this new private school will be good for him.  It's never easy for a new kid in any school, but this one isn't in his neighborhood and none of his friends go there.  The first person he meets doesn't even talk to him.  He quickly notices that he is one of the few black kids.  And yet, he makes friends and soon finds his way navigating the new school.  Now he's worried he is going to lose his friends in his neighborhood.
Jerry Craft shows us what it is like to be the new kid.  And, he teaches us about micro-aggressions against marginalized groups.  We see the white teacher that can never get the black kids' names right   And, we see the black kid getting the blame for what the bad white kid did.  Craft teaches us about racism and bias.  Jordan finds out that even he is biased when he has to sit with the weird girl and finds out more about her.
While there wasn't a big story line other than what it is like to be a new kid in middle school, I think this is an important read for kids today.  You see Jordan's perspective as a black kid, as a minority.  It's funny and relatable and I think kids will like it.  I hope that Jerry Craft makes this a series so that we can learn more about Jordan and his friends.