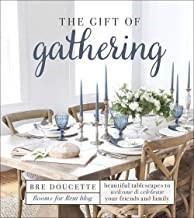 The Gift of Gathering by Bre Doucette
Format:  Book
Who it's for:  Adults
Bre Doucette (rooms for rent blog), has crafted an elegant yet simple book, designed to make any gathering of family and friends beautiful and enjoyable.  The book is arranged by seasons, and each season has an appropriate tablescape, which provides a perfect setting for conversation and a pleasant meal.  Each centerpiece includes natural elements, such as fresh greenery and flowers, pebbles and driftwood, and herbs in clay pots.  Instructions are given for each arrangement, and seasonal recipes are interspersed throughout, encouraging the reader to create their own gift of gathering.