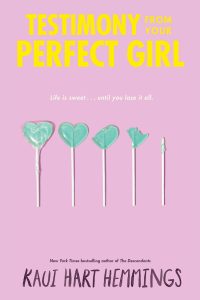 Testimony from Your Perfect Girl by Kaui Hart Hemmings
Format: Book
Who's it for: Young Adult
Annie is a wealthy teenager who has everything she could ever want. On the outside, her family seems to be perfect but their entire world comes crashing down when Annie's father is accused of stealing investment funds from several clients. The entire town begins to shame the family, so Annie and her brother are sent to live in a smaller rural town with their aunt and uncle. Annie knows that her father is innocent, but a lot of others don't seem to agree. She must come up with another identity to remain in hiding until the trial is over. Annie learns how to make new friends and live a completely different lifestyle, while trying to discover her passions in life. Will she tell her new friends about her true identity or keep it all a secret until she can go back home? This is a story that has new connections, inner conflict, and the ultimate realization that parents are perfectly flawed humans too. Find Testimony from Your Perfect Girl in the catalog!