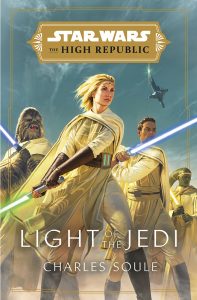 Light of the Jedi by Charles Soule
Format: Book
Who it's for: Adults
There's a new Star Wars book series, set in the High Republic era, a golden age in which the Republic and Jedi reign supreme, and it all starts with Light of the Jedi.
"We are all the Republic" is the message of unity Chancellor Lina Soh wants to send to her constituency. She has a variety of "Great Works" planned to improve life for all, starting with the installation of the Starlight Beacon, a space station in the outer rim, which will improve communication and provide security for some of the more remote territories in the galaxy.
But just as the Starlight is coming online, tragedy strikes, when a disaster occurs in Hyperspace. Luckily several Jedi Knights, like the powerful Avar Kriss, are on hand, to help with the rescue efforts. But who is responsible? Who threatens to end this era of peace and magnanimity? The Nihil, a gang of chaotic marauders, led by the mysterious Marchion Ro.
This book kicks off the High Republic series with all the action, adventure, and emotion Star Wars fans expect from the franchise. There are also High Republic books for children, young adults, and graphic novel readers if you just can't get enough.