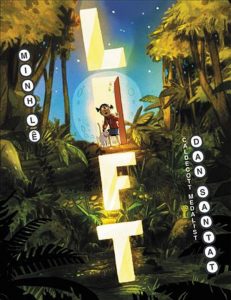 Lift by Minh Lê, art by Dan Santat
Format: Book, eBook
Who it's for: Kids
Those of us who are older siblings can probably relate to Iris' experience in Lift. Iris has always been the one to push the buttons on the elevator in her family's building. But now, her baby brother has taken over her favorite job. She's upset, but soon finds herself in possession of an elevator button of her own that opens new worlds from her bedroom. But does she want to explore them alone?
Though not a completely wordless picture book, Lift provides the opportunity to expand on the story with your child through Santat's graphic novel-like illustrations. Pick out the small details that add to the feeling of the story and spin your own tales while Iris explores other worlds. This picture book is fun for kids and adults alike, and especially for all those older siblings out there.
Find Lift in the catalog.