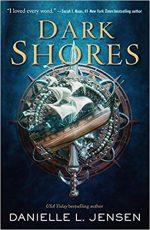 Dark Shores by Danielle L. Jensen
Format: Book
Who's It For: Teens
Jensen's sea faring adventure is set in a Romanesque world inhabited by forgotten gods and greedy empires. We have two main characters the story follows; Teriana and Marcus.
Marcus is the young leader of a ruthless legion, the Thirty-Seventh, with a brutal reputation of conquering nations in the name of the empire. He is hiding a secret that could not only strip him of his title but cost him his life.
Teriana was born on the mysterious Dark Shores and is heir to the Maarin ship, Quincense. The Maarin are not only traders but have vowed to never allow anyone from the Empire to discover the Dark Shores existence. Then Teriana and Marcus are both faced with what seem to be impossible decisions and are forced together on a mission neither of them wants.