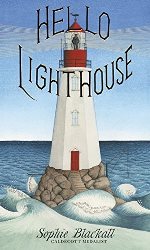 Hello Lighthouse by Sophie Blackall
Format: Book
Who it's for: Kids
Out on the highest rock of a tiny island at the very edge of the world stands a lighthouse.  This lighthouse shines its unwavering beam every day and throughout every night as if saying "Hellooo! Hellooo! Hellooo!" to any ships at sea.  It is tended to by a lighthouse keeper who, just like the beam of light, is unwavering in his duty.  Every day he has to tend the light by polishing the lens, refilling the oil and trimming the burned end of the wick.  Throughout each and every night he has to ensure that the clockwork that spins the massive lamp is sufficiently wound.  When supplies get low he has to fish for his lunch.
He is the only one there.  He is all alone with only the sea, the gulls, and the green paint of the walls to keep him company.  But despite the constant hard work and the solitude he is still happy.
Hello Lighthouse, written and illustrated by Caldecott medalist Sophie Blackall, tells a beautiful story about how being happy is only a matter of perspective.
Recommended for: anyone interested in beautiful illustrations, lighthouses, and stories about enjoying solitude.