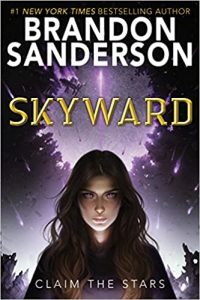 Skyward by Brandon Sanderson
Who it's for: Teens, Adults
Format: Book, eBook
Epic space battles, a nearly-sentient AI-powered ship, a strange yellow and blue slug that mimics voices and sounds, and a teenager who wants to claim the stars – that's Skyward in a nutshell. Brandon Sanderson is an excellent world-builder and it shows in the first of a four part series.
Spensa is trapped on a planet called Detritus with what remains of humanity. They are frequently attacked from above by unknown forces they call the Krell. Spensa dreams of being a space pilot to defend her home. But when she was young, her father was branded a coward, and now the entire family bears the label. Fighting her way into flight school, Spensa works to prove that she's not a coward (and that her father wasn't either), and that she can help in the fight against the Krell. 
Outside of school, M-Bot, the abandoned AI-driven ship with a personality, and Doomslug. Spensa, with the help of her friend Rig, repairs M-Bot and takes him for a spin. M-Bot has been programmed not to fight, and when he believes Spensa would fly him in battle, he shuts down.
Fast forward to the most epic of epic battles – can Spensa save Detritus from destruction, or will what happened to her father happen to her too?
Starsight, book two of four, is also out now, so there's more to come when you reach the cliffhanger at the end!