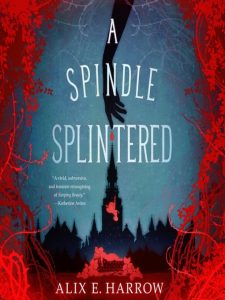 A Spindle Splintered by Alix E. Harrow
Format: Book
Who It's for:  Adults
"Sleeping Beauty is the worst fairy tale, pretty much any way you slice it." According to Zinnia Gray. It's her twenty first birthday and  most likely she will not have any more birthdays. Zinnia has a rare condition that no one, who was ever diagnosed with it, has ever lived past 21. On her twenty first birthday, her best friend Charm surprises her with a party, where she surprisingly, indeed has a spinning wheel. But when Zinnia touches it and pricks her finger…she actually does find herself falling through some sort of time warp of worlds along with other sleeping beauties. When she stops falling past a thousand other girls reaching for the spindles point, she hears one say, "help!" That's when she stops falling. Zinnia looks up to see her, this ridiculously beautiful princess who says to her "from whence have you come?" At which point she passes out.
Zinnia is definitely  not in the same world where she was.
Fairytales as we know them are challenged through this narrative of a classic story and a multi-universe, time traveling event with a very different ending.