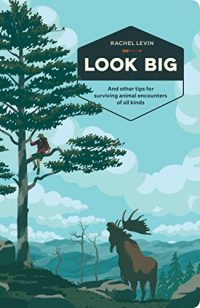 Look Big: And Other Tips for Surviving Animal Encounters of All Kinds
Format: Book
Who it's for: Teens and Adults
This easily-skimmable, illustrated wildlife survival guide, both humorous and helpful, explains what to do (or not do) in a showdown with 50 of the most feared and frustrating of North America's creatures and critters.  As humans encroach on nature's stomping ground, these run-ins are becoming increasingly common.  From bunnies to bull sharks, cockroaches to cows, this guide is handy for urban, suburban, and outdoor adventurers alike.  The readers can feel empowered to contain a major critter crisis or diffuse a dangerous disaster as each page contains expert tips, fascinating facts, and harrowing true tales of real-life encounters.  What I've learned: never turn your back on a goose, assume every moose is a serial killer, and if the mountain lion attacks, "give 'em hell." Find it in the catalog.