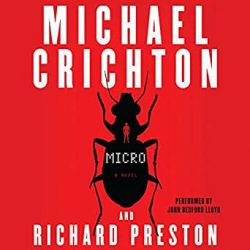 Micro by Michael Crichton
Format:  Book
Who it's for:  Adults
On the island of Oahu, a greedy and power-obsessed science mogul named Vin Drake has created a nanotechnology company.  A team of young science graduate students travels to Hawaii to work for Drake's company.  Almost instantly when arriving on the island, the group gets absorbed in an elaborate scheme that contains cons, killing, and corporate greediness.  This results in Drake turning against the students.  They are shrunk to a size smaller than ants. In this reduced state, they must travel through the island jungle and face challenging obstacles, as the sociopathic Drake attempts to capture them and stamp them out.  I honestly could not set this book down.  This page-turning thriller has you on the edge of your seat from beginning to end.