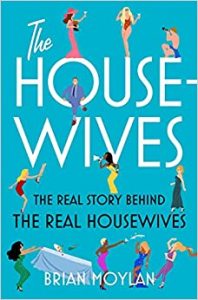 The Housewives: The Real Story behind the Real Housewives by Brian Moylan
Format: Audiobook
Who it's for: Adults
It is time to admit my biggest guilty pleasure: reality television. This book is narrated by the author and involves a deep dive into the world of The Real Housewives franchise on Bravo. I listened to this audiobook and as Brian, the author, chats about the history of The Real Housewives, it is just like having coffee with a friend the day after watching an episode. Although Bravo wouldn't allow the author a lot of access to the housewives, Moylan did a great job giving readers and listeners the behind-the-scenes scoop on our favorite housewives moments. The book had a great mix of everything, the history of the show, who really pays for those housewives' trips, and even an inside look at Moylan's vacation with one of the housewives. This book is a must-read for anyone who loves reality shows and wants to get a small glimpse of the inside of the Bravo phenomenon.