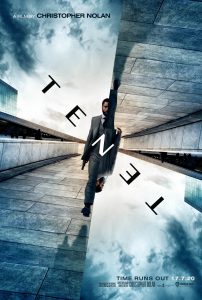 Tenet
Format: DVD
Who it's for: Adults
A CIA operative is involved in a mission at an opera house in Kyiv to extract an artifact. He is captured and tortured, but refuses to give up any information, swallowing a CIA-issued cyanide pill. But then he wakes up. He's informed the interrogation was a test of loyalty he passed with flying colors, and he's recruited into a new secret organization, Tenet.
He comes to learn that there is a war going on between the future and the present. In the future we've developed technology to invert entropy, moving people and objects backwards through time. That artifact our protagonist was attempting to extract is part of a device from the future that could end the world, and Tenet is trying to stop that from happening.
Tenet is a thought-provoking action flick, brought to you by Christopher Nolan, the auteur responsible for such films as Inception, The Prestige, and Memento, featuring excellent performances from the cast including John David Washington, Robert Pattinson, Elizabeth Debicki, and Kenneth Branagh, an amazing score by Ludwig Göransson, and mind-blowing visual effects that earned the film several awards including an Oscar and a BAFTA (seriously, the film's climatic "temporal pincer" sequence is unforgettable, trust me).