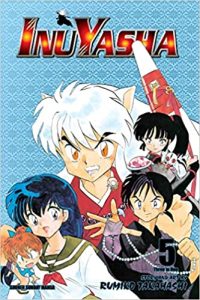 InuYasha by Rumiko Takahashi
Format: Manga Series
Who it's for: Teens
Kagome is a present-day high school student in Tokyo, but ends up getting sent back to Sengoku feudal era of Japan after she encounters a magical shrine. She meets a half-demon named InuYasha, who is stubborn but honest and loyal. After a treacherous event takes place where the powerful Shikon jewel shatters into a million pieces, the two heroes team up to find all of them before they slip into the wrong hands. Along the way, Kagome and InuYasha meet some amazing friends, go on great journeys, and try to protect the world from complete evil! This is a classic manga series that has so much depth and character development to it. The anime and movies that were based on this manga have been released, so if you love reading this series, give those a try! Find InuYasha in the catalog.