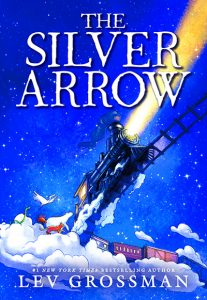 The Silver Arrow by Lev Grossman
Format: Book
Who it's for: Kids
Dear Uncle Herbert,
You've never met me but I'm your niece Kate, and since it's my birthday tomorrow and you are super rich do you think you could please send me a present?
Warmly,
Kate
Kate has no idea when she writes this letter to her Uncle Herbert, whom she has never met, but is told is very rich and very irresponsible, that he will actually show up on her birthday with a present.
She certainly has no idea that the present will be an actual steam engine called "The Silver Arrow."
She really couldn't have guessed that tracks would suddenly appear from her backyard into the woods beyond, and that the train will take off along them.
She couldn't have even had an inkling that talking animals will be waiting with tickets at magic train stops all over the world, and she and her little brother Tom are expected to conduct them to their destinations.
These are the first of many surprises for Kate as she embarks on an adventure filled with thrills and chills in this novel for children by Lev Grossman (author of The Magicians novels for adults) which makes a wonderful read-aloud for families to share together.