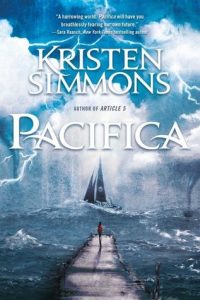 Title: Pacifica by Kristen Simmons
Format: Book
Who's It For: Teens and Adults
Perhaps Ross Torres started it.  Tall, athletic, good-looking, the son of the President of the United States, Ross wanted for nothing.  And yet he was curious about the Shorelings rioting down at the docks.  Ross persuaded Adam, his best friend and the vice-president's son, to slip out of the Torres' political party. They'd ditch Ross' bodyguard and see the riots firsthand.
Marin Carey was transporting jars of tar in her backpack through the crowds of the riot.  Her friends and the children they'd taken in depended on Marin.  She had to sell the addictive substance to afford food and water.  Surely she would find a buyer among the crowds at the docks?
The Shorelings rioted because their land was being confiscated.  What else did they have left?  Many hoped to win the lottery and to be transported to Pacifica, a land somewhere out among the rising waters.  However, Marin had been raised at sea.  She'd never seen unoccupied land or an ocean unmired by floating trash.  Was Pacifica real?
The Limpieza, the police, pushed against the growing masses at the docks.  "Curfew! Go home!"
In the confusion, Marin's bag of contraband was jostled and the jars broke on the ground.  Phew!  She had to get away from its dizzying smell.
"Adam!  Let's go!" shouted Ross as blood dripped from his black hair.  Marin stumbled into Ross and Adam.  As the police raised their billy clubs, the three fled from the growing threat.
Would Ross, Marin, and Adam solve the mystery of Pacifica and stop the riots?
I was intrigued by this tale of teen friendship, loyalties, and love.  Also, I found the issues of trash, recycling, and resources very real.