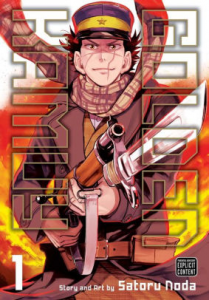 Golden Kamuy by Satoru Noda
Publication Date: June 06, 2017
Format: Graphic Novel
Who's it for: Teens, Adults

Golden Kamuy is the exciting tale of Sachi Sugimoto, veteran of the Russo-Japanese war, who finds himself wrapped up in the hunt for a trove of hidden Ainu gold. Golden Kamuy paints an interesting picture of survivalist and Japanese society at the turn of the 19th century. Going by the moniker of "Immortal" from his war days, Sugimoto finds himself joined by a variety of allies, from the young huntress Asirpa and the cunning "Escape King", while opposed by historical figures along the way. The map to the gold is tattooed on the skins of 24 escaped death row convicts, hunted by multiple groups tracking the treasure. Some of the prisoners are inspired by prolific American serial killers, including H.H. Holmes and Henry Lee Lucas.
Golden Kamuy has recently received an anime series, and has proven to be a surprise hit. What really drew me to it was the fantastic interplay between characters, as well as the interesting subject matter. The characters really develop interesting relationships with each other, and sometimes antagonists have surprising moments of depth which really add to their interactions with our heroes. There's a lot of detail to the hunting aspects prevalent in Ainu culture, and teaching quite a bit about utilizing all of the parts of an animal that I didn't know about. Golden Kamuy starts as a thrilling hunt for lost gold but quickly becomes more than that, the stories of numerous characters quickly entwining themselves and creating a number of memorable moments and personality clashes. See you in the wilds! Find it in our catalog now.