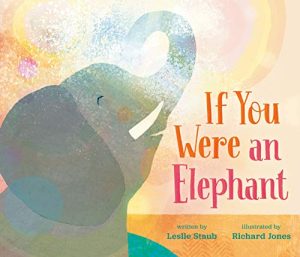 If You Were an Elephant by Leslie Staub
Format: Picture Book
Who it's for: Kids
If you were an elephant, you could turn the page with your trunk. You could use your tent size ears to fan yourself. You could eat all day long and munch on whole bushes, branches and leaves. And you could drink gallons of water and spray it all over like a fountain, while taking a swim. Elephants in the savannah are the biggest animals who live on land. With thick as tree trunk legs and feet as flat as pancakes. You could roam wild places in your herd, with your mom, grandma and lots of cousins.
Did you know that adult elephants only need about two hours of sleep a day?  They sleep standing up. But they can only dream if they sleep lying down.
In this picture book about elephants, you will learn tons of facts all about a day in the life a young African bush elephants.
Find If You Were an Elephant in the catalog!