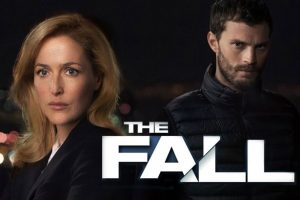 Recommended TV Series
The Fall by Acorn Media
Who it's for: Adults
Brief Synopsis: Psychological thriller where a senior police officer from England is brought to Belfast, Ireland to lead the hunt for a serial killer.
Review: I was on hoopladigital.com browsing the tag Crime. I was in the mood for a new police procedural to watch. The cover caught my eye when I recognized Gillian Anderson from The X-Files and Jamie Doran from Fifty Shades. I have not watched many British productions. The ones I have watched have been mostly comedies produced by BBC television. This is a drama produced by Acorn, which, judging by the promotional images, probably lacked humor. I had only watched two BBC dramas but I absolutely loved them (Sherlock and Orphan Black). They were not original story concepts (there are only so many). To me the stories were produced, written, directed, and acted in completely fresh and new ways. The Fall is a TV show about the hunt for a serial killer that focuses on the killer and the police officer hunting him.  I predicted The Fall would tell this unoriginal idea in a way that I had never experienced before that would leave an impression just like Sherlock and Orphan Black.
Thankfully, I guessed correctly. 😁
The Fall seemed like it would be a darker version of Dexter, the Showtime TV series about a serial killer. I really, really, really liked Dexter. I was a little concerned that there might be gore, graphic murders, or rape scenes. I checked the reviews and was assured that was not the case. The Fall was not like Dexter where I got to know almost every aspect of the serial killer and the detectives hunting him. In The Fall, the murder victims and the other people in their lives are not the relationships that captured my attention. I am not sure if it is because it is a British production or an aspect of their culture but even by the end of the series both main characters are still a little like work associates not close friends. The TV show did reveal some things about their personalities and relationships with others that kept me very interested. It was not enough for me to truly root for one or the other. It was a great story but not one that invested too many emotions for me except excitement and anticipation of what comes next. At one point or another, I felt sympathy for Paul, Gibson, the murder victims, the police officers Gibson showed up by being brilliant, and Paul's family. However, unlike in USA tv shows where I truly felt an emotional connection with the characters, if Paul or Gibson did something out of character, I would be annoyed but not highly upset (like I was with the last season of Dexter. 😤 still mad about that disaster of a season!)
Another reason I decided to watch this show is that it is a British TV drama. The entire TV series ends fairly quickly. It only has 3 seasons (or series as they call it). I consider this a binge worthy series. Every season it felt like Gibson was going to catch Paul or he would turn himself in or something.  I must say that is very good production, writing, and acting when I know a TV show lasts for 3 seasons but almost every episode kept me on the edge of my seat. That is the only reason I binged it. Normally I take my time with TV series; watching 1-2 episodes a day; finishing it in 3 or 4months. With The Fall, I could not wait for my hoopla checkouts to renew. I got the physical DVD copies and watched the entire 3 seasons in about 2 weeks. BINGE. WORTHY. I looked for similar shows. I was told about the Netflix series You which is based on a novel written by Caroline Kepnes. I may check one of them out or both.🤷🏾‍♀️🤔
Find it on hoolpadigital.com or check out the series on DVD!