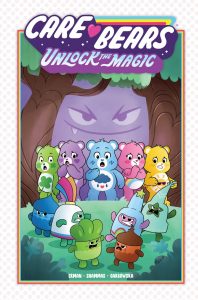 Care Bears: Unlock the Magic by Matthew Erman, Nadia Shammas, and Agnes Garbowska
Format: eBook, Book
Who it's for: Kids (and kids at heart)
The time is ideal for a deep dive into Care Bears lore.
This graphic novel takes us on an adventure with Cheer Bear, Share Bear, Funshine Bear, Good Luck Bear, and Grumpy Bear, as they traverse the Silver Lining of Care-A-Lot in the Cloudseeker! There's a report of unrest in the Whiffle community, which is bad news, because if the Whiffles are busy arguing with each other, it means they aren't planting seeds of care!
The Care Bears descend upon the Glass Glaciers and spot the problem immediately: the glaciers, which are supposed to reflect the best versions of ourselves, have been tampered with by the villainous Bluster and his Bad Crowd, and are reflecting instead the worst versions of those looking into them! Our brave Care Bears must confront their worst fears if they are to defeat Bluster, soothe the dissension among the Whiffles, and continue spreading positive vibes throughout the realm!
This cute story is sure to delight fans of the Care Bears young and old, and teach some important lessons about friendship, forgiveness, and self love along the way. If you need a dose of magic in your life stat, then check this book out right away!