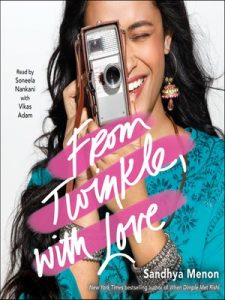 Recommended Book
From Twinkle, With Love by  Sandhya Menon
Publication Date: May 22, 2018
Format: Book or ebook
Who it's for: Teens
"In this delightful romantic comedy from the New York Times bestselling author of When Dimple Met Rishi, told through the letters Twinkle writes to her favorite female filmmakers, From Twinkle, with Love navigates big truths about friendship, family, and the unexpected places love can find you.
Aspiring filmmaker and wallflower Twinkle Mehra has stories she wants to tell and universes she wants to explore, if only the world would listen. So when fellow film geek Sahil Roy approaches her to direct a movie for the upcoming Summer Festival, Twinkle is all over it. The chance to publicly showcase her voice as a director? Dream come true. The fact that it gets her closer to her longtime crush, Neil Roy-a.k.a. Sahil's twin brother? Dream come true x 2.
When mystery man N begins emailing her, Twinkle is sure it's Neil, finally ready to begin their happily-ever-after. The only slightly inconvenient problem is that, in the course of movie-making, she's fallen madly in love with the irresistibly adorkable Sahil.
Twinkle soon realizes that resistance is futile: The romance she's got is not the one she's scripted. But will it be enough?" – Publisher's blurb
This took a bit for me to get into. It was soooooooo High School. The crush, the BFF drama, the awkwardness, the 'Woe is me' angst, etc. So very HS, so stereotypical; it made me cringe, laugh, and smh. I would have stopped reading it by like chapter two, if not for Books for the Beast (a YA reader's advisory conference in Maryland) and the fact her first book got so much praise. I powered through.
It was very amusing with a couple of lil life lessons to boot. If this was a Disney Channel movie, I could have made it through without cringing so much or smh at the mistakes they made. I still would have lol at the awkward moments. Despite all those things it was a great read.
The Indian culture that was in the book was completely natural and did not feel forced. It was just a part of Twinkle's life, her story. The gay friends felt forced, like an afterthought. I liked the text messages and emails. They made it feel epistolary. The supposed diary entries where Twinkle is writing to directors never really felt like letters. They did not really feel like a diary entries, either. Only at the beginning of the diary entry and when she closed the "letter" did it ever feel like she was writing a letter to somebody.  It felt more like just a first POV novel.
I was considering reading her debut novel but when I was talking about From Twinkle, With Love with a coworker, she said this plot sounds almost identical to When Dimple Met Rishi. Now if they made movies from her novels on Disney Channel, I would watch them all and enjoy. If I was in middle/high school and liked romance novels, I would read all her novels as well. Def geared for upper middle school and High School girls.
Read a High School Rom-Com starring a cute Indian Girl!