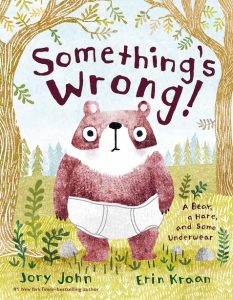 Something's Wrong! by Jory John
Format: Picture Book
Who its's for: Preschool-2nd grade
Have you ever had an off day? You just feel like something is not quite right? But you can't put your finger on it. Well Bear feels just that way. He's done all the normal things a bear does to start his day. But something is different… So Bear sets out to find his friend Anders, a hare, who he knows will be honest with him and help him figure it out. "Oh Anders!" says Bear. "Oh hey Jeff, how's your….. uh, day….um….how's your…let's see…" Anders is a bit stumped. Should Anders tell his friend that he's wearing underwear? Over his fur??
This story is about a Bear named Jeff, some forest friends, a hare named Anders, good friends and underwear!