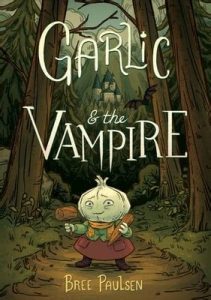 Garlic and the Vampire by Bree Paulsen
Format: Book
Who it's for: Kids
Garlic, an enchanted garlic bulb, lives in a quiet garden with other enchanted vegetables under the care of their friend and mentor, Witch Agnes. Garlic chronically oversleeps and over-worries, but she loves tending the garden and finds her bliss safely in her comfort zone.
Interrupting their idyllic existence, smoke rises from a nearby (and supposedly long abandoned) castle. A vampire has moved in! Garlic, obviously having natural resistance to vampires, is volunteered to investigate and deal with their terrifying new neighbor. She doesn't know how she could possibly do that – she's just a little garlic! – but with encouragement from her best friend, Carrot, Garlic overcomes her self-doubt and confronts the vampire. Even with her newfound courage, it doesn't go exactly the way she expects.
A wholesome and absolutely adorable story, Garlic and the Vampire is a middle-grade graphic novel about anxiety and bravery, believing in yourself, and perhaps most importantly, not judging a vampire just by his teeth.