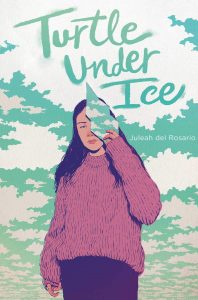 Turtle Under Ice by Juleah del Rosario
Published: February 11, 2020
Format: Book
Who it's for: Teens
I am not going to lie to you, this is a sad one. From page one you can feel the loneliness and sorrow that hangs over Row, Ariana, and their home. Each one, their own island of grief.
Their mother died. Years later the grief is still with Row and her big sister Ariana. For Row, Ariana's disappearance into a snowy night is a terrifying blow to their relationship. The novel, written in verse, is told from both Row's and Ariana's perspective. Without focusing on the small details that make up their lives, the novel centers on how each character copes with their grief, and how the disconnects in their relationships with each other and with their friends, keeps them from healing in order to live their lives. They both need to learn how to miss their mom while being more than the sum of their grief.
Don't let the prospect of a sad and poignant story sway you from reading this beautifully written and hopeful portrayal of loss, love, and grief.
Find it in the Catalog