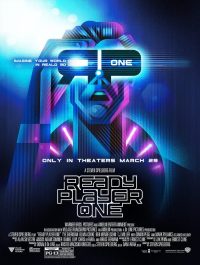 Read the Book, Watch the Movie!
Book: Ready Player One by Ernest Cline
Movie: Ready Player One
Movie Release Date: March 29, 2018
Set in the year 2045, the people of a dystopian global society rely on the OASIS, an immersive virtual reality game, to escape the stress and bleakness of their poverty-stricken actuality.  When the game's eccentric creator dies, he sends the entire world on an 80's-themed treasure hunt—the prize being his enormous fortune and complete control over the OASIS. Wade Watts (aka Parzival), a teenager "gunter", devotes his life to the contest, studying all things retro, while navigating this fantastical and dangerous universe in pursuit of the elusive "Easter egg".  Ready Player One combines 80's nostalgia with the transcendence of virtual reality technology in this action-packed adventure, exploring themes of teamwork, perseverance, and the value of real-life connections along the way. Find it in the catalog.