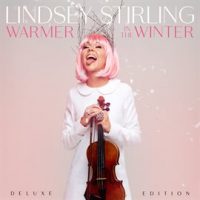 Warmer In The Winter by Lindsey Stirling
Format:  Music
Who it's for:  Everyone
I love Lindsey Stirling's music, but I especially love her holiday album, Warmer in the Winter.  You will recognize a lot of old favorites like Carol of the Bells, Dance of the Sugar Plum Fairy and Jingle Bell Rock.  All songs are played in Lindsey's signature violin style.  This is the perfect music to listen to while wrapping gifts, snuggling under a blanket, while reading a book, in the car or anywhere!
Some of us are struggling to read during this COVID-19 pandemic.  If you need an uplifting and pretty way to get into the holiday spirit, check out this holiday album on Hoopla. Happy Holidays!