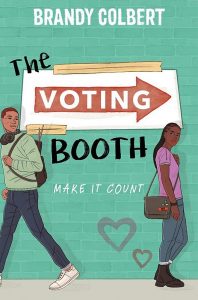 The Voting Booth by Brandy Colbert
Format: Book
Who it's for: Teens
It's Election Day! Marva and Duke, seniors at different high schools, are voting for the first time. Marva has thoroughly researched and planned for this day, just like she does with everything in life. She is ready to vote! Duke registered a couple years ago when he was 16.
It turns out that Duke isn't registered where he thought, his car breaks down, and Marva shows up to save the day. The two have never met, but Marva believes every vote counts, so she is going to get Duke to his polling place. The story follows the two through this one election day and the craziness that ensues. Everything that can go wrong does, all while they run all over town trying to get Duke's vote in.
As they spend the day together, they get to each other, and they start to understand themselves and their relationships better. Marva is having a tough time with her boyfriend who she thought was a perfect match for her; and Duke is having a tough time with his parents since his older brother died.
The chapters alternate between Marva and Duke, and the story moves at a surprising pace. I enjoyed the quick wit and momentum of Duke and Marva's relationship. The author touches on a number of issues relevant to the lives of young people of color, and the impact young people can make by voting and participating in the elections process.
If you can, register to vote, go vote; and then check out The Voting Booth!