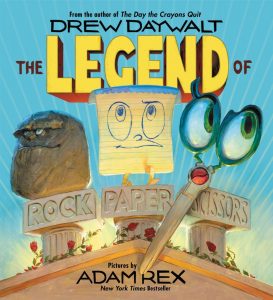 The Legend of Rock Paper Scissors by Drew Daywalt
Format: Books
Who's it for: Kids
From New York Times bestselling creators Drew Daywalt, author of The Day the Crayons Quit and The Day the Crayons Came Home, and Adam Rex, author-illustrator of Frankenstein Makes a Sandwich, comes a laugh-out-loud hilarious picture book about the epic tale of the classic game Rock, Paper, Scissors.
Long ago, in an ancient and distant realm called the Kingdom of Backyard, there lived a warrior named Rock.  Meanwhile, in the Empire of Mom's Home Office, on lonely and windswept Desk Mountain, a second great warrior sought the glory of battle, and his name was Paper.  At the same time, in the Kitchen Realm, in the tiny village of Junk Drawer, there lived a third great warrior.  They called her Scissors.  These three were the smartest, strongest and fastest in all the land.
You've played the game, but do you know the legend of how it all began?  Put your battle pants on and follow the warriors on their epic quest: the search for the ultimate adversary!