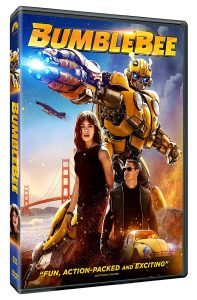 Bumblebee
Format: DVD
Rated: PG-13
Who It's For: Adult and Young Adult
If you are a Transformers fan you will LOVE this DVD!
This movie is a prequel to "The Transformers" film series. It starts on the planet Cybertron as a fierce battle rages on between the good Autobots and the evil Decepticons. Optimus sends B-127 (Bumblebee) to planet Earth for refuge. Agent Jack Burns (John Cena) boasts his paint ball training exercise win to his peers, just moments before they see B-127 come crashing down to the ground.  B-127 is cornered by the agents and they demand the whereabouts of Optimus. I don't want to spoil any surprises so we will skip the rest of that part of the movie. Onto the year 1987….. Charlie (Hailee Steinfeld), is dealing with the death of her father. She spent time fixing cars with her dad before his death. She finds comfort in the local junkyard. That's where she finds Bumblebee, broken and scarred. As she is fixing him she quickly realizes he is no ordinary yellow VW bug. Get ready for action, adventure and heart warming moments.
Here are some interesting trivia facts about the movie Bumblebee.
Hailee Steinfeld is the first female lead in the film franchise.
With a budget of $102-128 million, this is the least expensive Transformers movie to date.
Bumblebee" is the only movie in the "Transformers" theatrical film series to have a running time under 2 hours (approximately 1 hour, 54 minutes). All previous films clocked in at well over 2 hours.
Hailee Steinfeld was not born until nine years after the setting of the film and had to be taught how to use some typical items of the '80s era, such as how to work a Walkman, which was completely foreign to her. I feel really old 🙂
John Cena, who plays Agent Burns, was originally supposed to play a villain named "Scarface" as seen from behind-the-scenes photos from his stunt double Joseph Kelly. It is unclear what made the change but rumor has it, like wrestling, they did not want John Cena the heel but more the face and this would also leave John Cena's role open for a sequel.