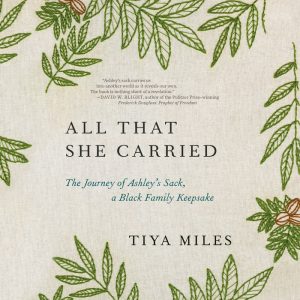 All That She Carried: The Journey of Ashley's Sack, A Black Family Keepsake
Format:  Book, Digital Audiobook, Ebook
Who It's for:  Adults
In the year 1850, a slave named Rose gave her nine-year-old daughter Ashley this sack the evening before they were separated by auction.  The two never saw one another again. The sack was found in 2007 at a flea market by a woman who purchased it to sell on eBay.  The woman noticed the embroidered inscription on the sack that read:
My great grandmother Rose
 mother of Ashley gave her this sack when
she was sold at age 9 in South Carolina
it held a tattered dress 3 handfulls of
pecans a braid of Roses hair. Told her
It be filled with my Love always
She never saw her again
Ashley is my grandmother
Ruth Middleton 1921.
Rather than sell the sack, the woman donated it to Middleton Place Plantation Museum, where it currently resides.   In 2015, author Tiya Miles heard about the sack and began her research for All That She Carried, which describes the journey the sack followed between three generations of enslaved Black women.
By researching their customs, crafts, and culture, Miles reveals not only the journey that the sack took but more importantly the experiences of the Black women who passed this object down through four generations.  Very little can be found about these enslaved women in written archives other than their names on plantation property lists.  But through intense research, Miles has succeeded in piecing their stories together and sharing them with us in her book.
If you love history, you will appreciate all that Tiya Miles shares in her book about the experience of slaves, the talents and skills that they passed on to their children, the importance of the "things" they held onto, and most all, the love for their families that they never let anyone take away from them. All That She Carried is a must-read.