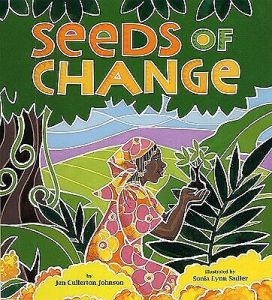 Seeds of Change: Planting a Path to Peace Written by Jean Cullerton Johnson, illustrated by Sonia Lynn Sadler
Format: Book
Who It's For: Kids
Wangari Maathai was born in Kenya, to the Kikuyu people who loved and respected nature and taught little Wangari to do the same. Girls weren't educated in her culture but she learned from nature and from her brother who went to school. When her parents saw how smart and curious she was, they finally sent Wangari to school too! A hard worker, she did well in her studies, even when she had to go away from home for school. At college in far-away America, she learned about science, and also learned that women could do anything! But her home and her people were always in her heart, so Wangari went back to Kenya, taking this freedom and knowledge to all Kenyan women. When she returned, she discovered the government was selling Kenya's land to big companies who cut down many trees for lumber or coffee plantations. This destroyed the land, and dried out the rivers so crops wouldn't grow. Her people were hungry.  What could she do? "Harambee (all pull together)!" she said to the women of Kenya. " Together, let's plant new trees, and make a change here!" And they did plant trees, millions of them! Throughout her life the unstoppable Wangari worked hard despite those who disagreed with her and traveled all over the world planting her "seeds of change", showing people everywhere how to work together in caring for the Earth and all who live there. I also loved the colorful illustrations by Sonya Sadler!
Wangari Maathai is one of my heroes of the environmental movement. After reading Seeds of Change, you may just feel the same!