Submitted by Mr. Eric!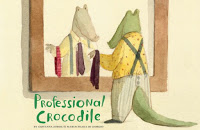 As we go about our day, meeting the various people that come our way, we all subconsciously develop ideas about those people. The older woman on the bus with the yellow coat? She looks like she might be a mom, maybe really good at baking. That man who waved at you as you checked the mail? He clearly is sporty, probably likes to run all the time… for fun. That crocodile with the very snazzy tie who gave you a polite smile on the subway? Who knows what his job is, but it's clearly important. 
Professional Crocodile
 by Giovanna Zoboli, and illustrated by Mariachiara Di Giorgio, is a wordless picture book that asks you to challenge those assumptions. It follows a very professional looking crocodile as he goes about his day before going into work, and what he actually does for a living may be a surprise for some readers. The beautifully detailed illustrations offer a rich view into city life, displaying a wealth of details. 
Professional Crocodile
 helps to teach us that no one is what they seem at first glance, and that everyone is much more complex than what you see on the surface. Recommended for: anyone interested in city life, anthropomorphic animals, beautiful illustrations, acts of kindness, and fancy ties. Pro-tip: When reading this book with your child, see if they can guess what the Crocodile does for a living. Is there anything hidden in the book's illustrations that might offer a clue? 
See this book listed in our catalog